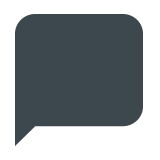 "I thought there might not be many exhibitors but there is. We've found some ideas for our next holidays as our group like to do two holidays a year. Everybody here is friendly and chatty and there is a good range and variety of companies here. I think there must be something for everybody here. If you visit, you can't say you didn't find at least something. The location at the Marshall Arena is better for us and definitely for everyone who lives in the south of England, you're near the M1, you've got a good train station in Milton Keynes, plus parking in this area is absolutely fantastic, there is so much space and it's free."
Sheila Foster, tours organiser for Golden Riddy Residents Association

"I saw Paul Martin and I thought he was absolutely excellent, he was very personable and friendly, while offering up some of his own inspiration and ideas. I could see people making notes in the audience, not just with ideas for a future trip but also what to look for when booking. He explained what to look out for in some of England's heritage sites and that was very educational, as well as just interesting. You can look up all sorts of things online but when you come here, you see something you wouldn't necessarily of thought of yourself."
Jackie Ring, Guildford U3A and secretary of the southern branch of AGTO

"It's been absolutely brilliant and Paul Martin was very interesting, I'm a huge fan. I was even on Flog It! It was a great day and Paul is such a lovely man. He will always stop and speak, smile for a photo and is never rude. His talk was interesting, as he clearly loves his heritage and that came across. We've found several ideas and have given our names and email addresses to different exhibitors to help plan our 2022 outings. Norfolk Lavender looks like a lovely day out!
"Rather than just a leaflet, you can ask questions here and you can get a feel for how welcoming the exhibitors are to groups. You get more information by talking to a representative for a company, rather than sending emails, it's more personable. Making personal contact with someone here means you've got someone the other end you know when following up after the day. You also get lots of free things here, I've got through a glass of prosecco and a brownie, plus the bacon roll at the start of the day wasn't bad!"
Yvonne Kneller, organiser for After Eight Social Club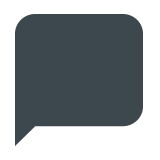 "I've come away with some good ideas and that's what we're all here for isn't it. And even going and talking to places that you've already been to is nice because it makes you want to go back. We drove here today and parking was very easy, everyone on the gate was friendly and helpful and personally I like it better than the NEC in Birmingham. For me, coming to the Group Leisure & Travel Show is all about looking for new ideas from the exhibitors who give us lots of inspiration. There are a few I will definitely be looking further in to."
Patrick Lake, AGTO, Southern Branch chair

"I've found some ideas here that will make great days out for the community centre and eventually on holiday. I've really enjoyed myself, it's not been too crowded which is great as things start to get back to normal so there is a nice, comfortable feel. I much prefer talking to people face to face and the show gives me that opportunity."
Frances Wright, Highwoods Community Centre

"A lot of the exhibitors have put us down on their mailing list so we'll continue to get information on some of the places exhibiting at the show. It's the second time we've been here and before, it's been a free bacon roll when arriving but today we also got a free lunch which was good. Some people come a really long way so it's good they have this option. There is plenty of seating, too."
Robert Parry, Wolverton & District Senior Citizens Trust

"I've found the day very useful and have had the chance to see lots of familiar faces that I haven't had the chance to see in such a long time. The people that came out today seem to have enjoyed themselves and I had a nice free lunch – what a wonderful idea! I've got one potential holiday idea out of my visit and lots of day trip inspiration, too. I always like to come to the GLT Show because the variety of people here is always good."
Marian Durbidge, Herts Theatre Club and Go Together Travel Club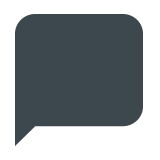 "We came by coach. It was a big luxury coach so it was even better! It was a lot quicker than last time I visited the show in 2019 and it dropped us off right outside the entrance, so it was perfect."
Patricia Palmer, Highwood Community Centre

I want to do some more weekend breaks for my members and today has given me the opportunity to find some ideas to help with that. I also spoke with someone from the London Transport Museum and that looks like somewhere I will be taking my group in the future."
Carmel Barrett-Elbro, GDYNIA Twinning Association

"I thought Paul Martin was really interesting and I liked the selection of houses that we covered, particularly Dumfries House and Charleston. I have found plenty of ideas here today and enjoy talking to the different destinations."
Hilary Riley, Jubilee Club, Haversham

"We used the preview in the magazine to tick off who we wanted to see so that was useful. We've got one or two more on the list to see after our free lunch, which is very fresh and includes a piece of chocolate brownie. I've also had a free coffee so I can't complain. It's important to come to shows like this because you can talk to people face to face and if you have any questions, it's easier to sort it out there and then rather than being put on hold and no familiar face the other end to speak with. I find that part of the show rewarding. We have been to one or two old favourites for some information, there are always certain people you have to say hello too. But it's nice just to walk around the show and spot different things."
June Lomas, Seedy Sewing Group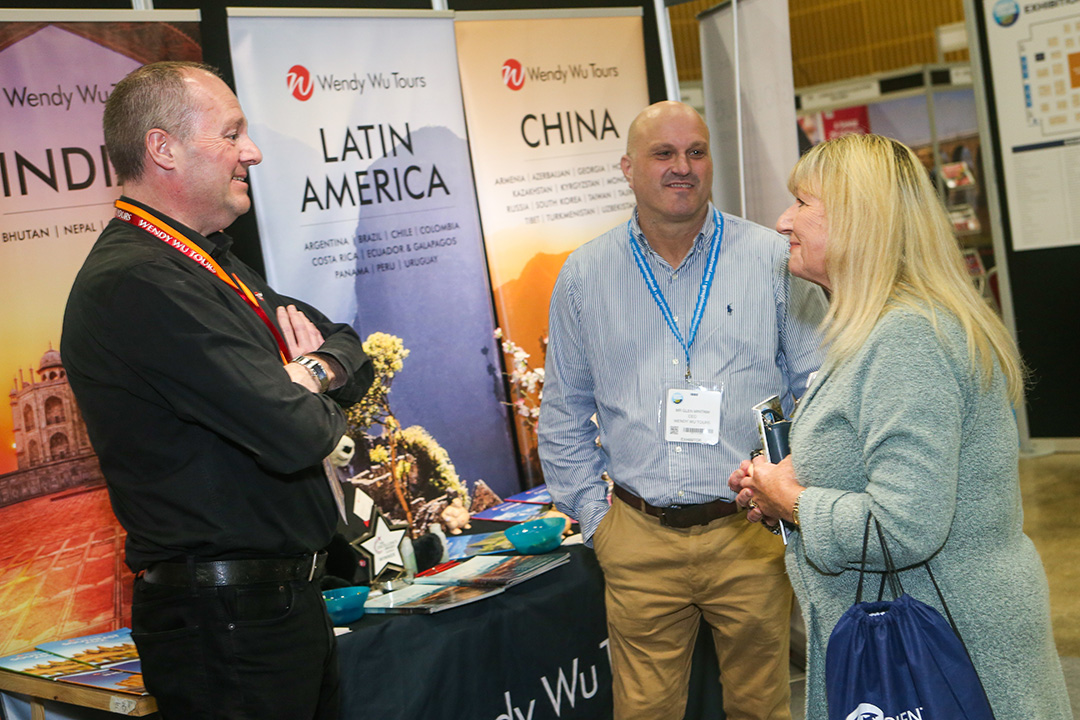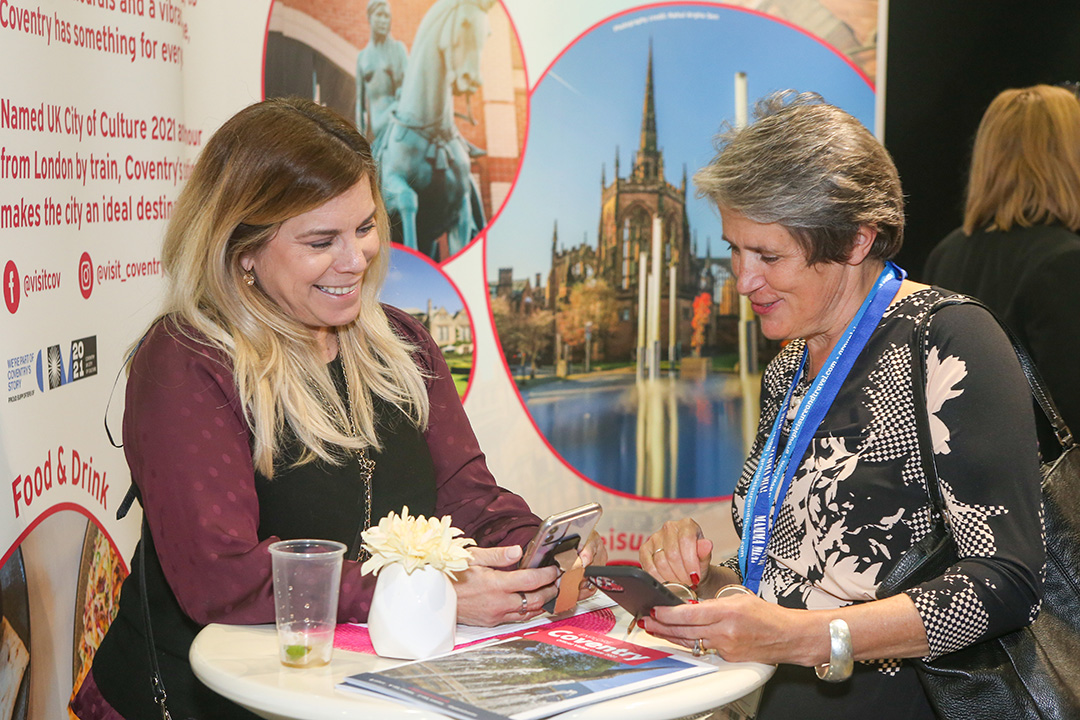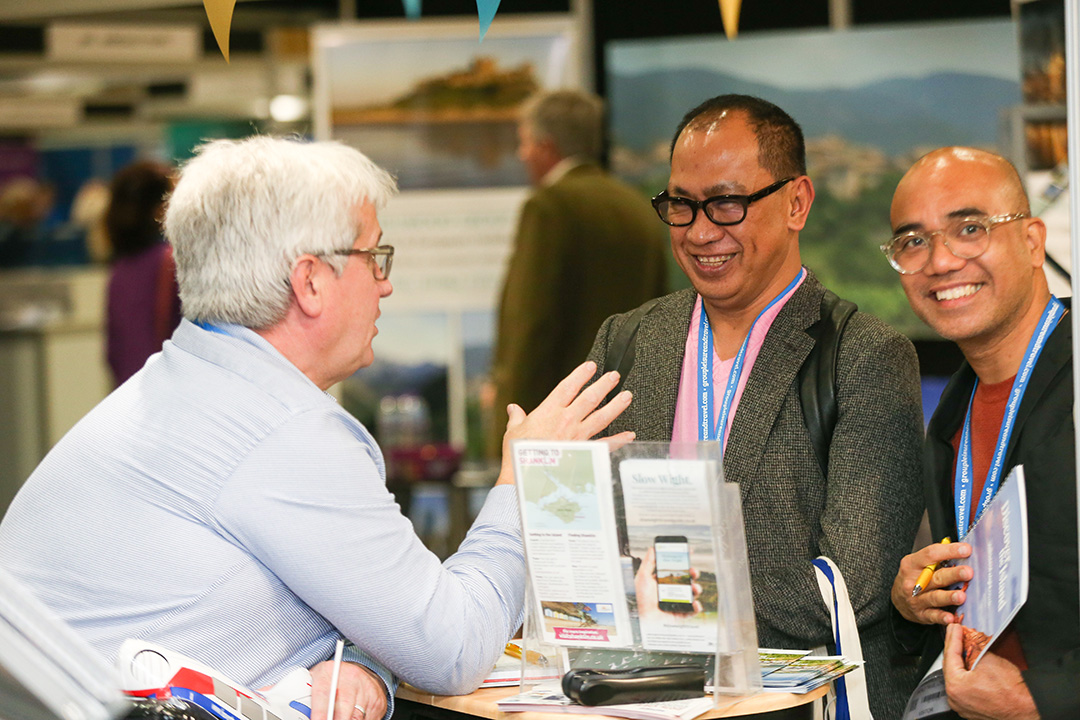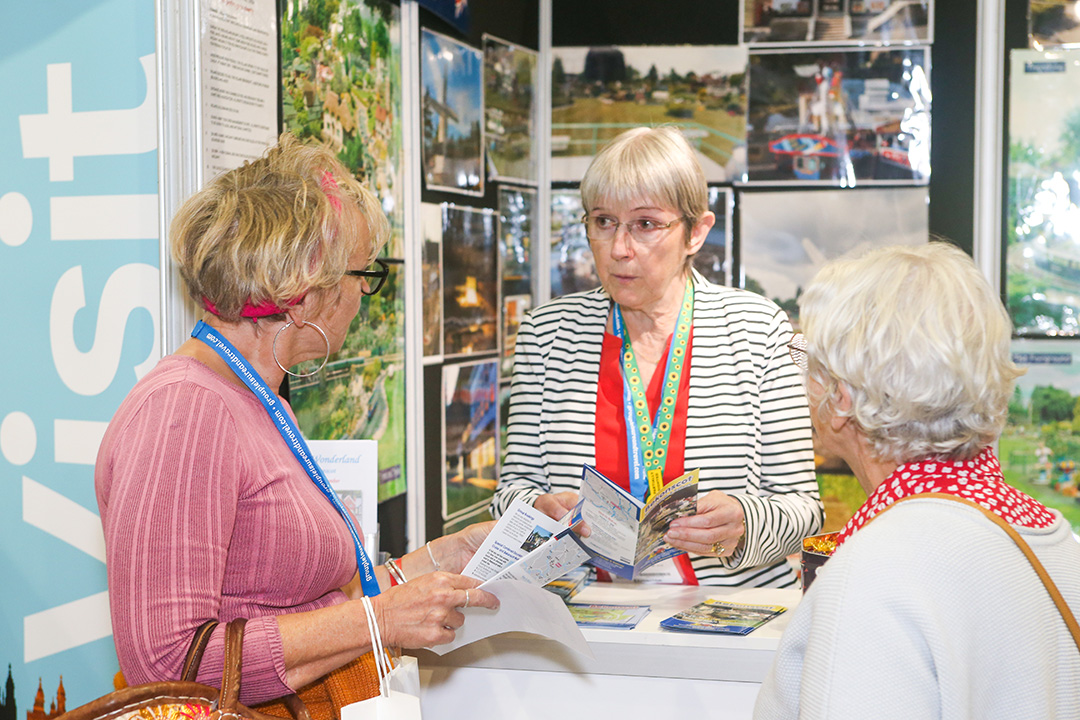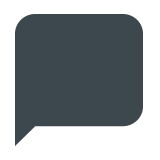 "We've picked up several ideas for day visits as we like to organise day trips and there's definitely been more choice this year than there has been in previous years. We spoke to some staff from Belvoir Castle in Leicestershire plus other attractions in Hertfordshire and the tourist board for the Cotswolds and picked up several ideas that we perhaps wouldn't have thought of."
Patricia Neale, U3A History Group

"It has been very good – it has been easy to get around. We've picked up some interesting ideas including the Floriade 2022 in Amsterdam which looks really different; there's so much that's interesting. It has been nice to see different exhibitors too."
Sheila Furniss, Rolls-Royce Retired Employees Association

"The Birmingham event was fine, but this year has been excellent. We've found a complete mix of different attractions here that we've never seen before, so it's been really good. We've also had a good chat with the team at Backwaters Cruising and have a good idea of where our next trip will be."
June Holland, Kier Group Fellowship Trust

"I've got three bags full of good ideas, so I'll go through them and then put the ideas to the rest of the group to organise our next trip. The celebrity seminars were very interesting too, particularly Kate Humble and Simon Calder – Simon's talk was very interesting, humorous but informative at the same time."
Eric Glover, Narborough Travel Club

 "It's been super being in Milton Keynes, it's so local for me. It's lovely – there's plenty of room, the parking is so much better, everything is so much easier to get to. It's great having the Group Leisure & Travel Awards next door too, people can stay in the hotel and just walk from there to the Marshall Arena. I think there has been more people to the exhibition too. I've picked up lots of new ideas including information about holidays to Wales and Japan. I've also caught up with old friends and colleagues which is always lovely when you come to these events. I spoke to some of the Milton Keynes exhibitors too and I'll be looking at organising trips to some of those attractions too."
Janet Spooner, Travel Treats

"We've booked up trips with the World of James Herriot and the Mint, Mine & Vine experience by coming to the 2019 Group Leisure & Travel Show so it's been really worthwhile.
Alex Elmore, Kettering Caledonian Society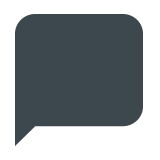 "I had a wonderful time – the exhibition was very useful for talking to people who I need for next year's programme. I was also able to catch up with the New Meridian group and AGTO. I'm also very excited to include the Floriade in 2022's programme."
Lizzie Cawdell, Heybridge U3A

"I found Julie Peasgood's seminar very good and interesting. I found out about lots of differences between a river and ocean cruise; we haven't been on a river cruise before but we're looking for cruise ideas and benefits for the group."
Suresh Patel, BMD Mandal UK

 "I got the free coach up to Milton Keynes from Southampton, so it was nice to meet fellow group organisers and bounce ideas off of each other on the way to the show. I've really enjoyed the day, it's been good. I even grabbed a free pork pie from Dickinson & Morris Melton Mowbray Pork Pies' stand that I'll share around on the coach home!"
Pete Fincham, Finch's Trips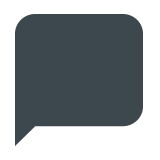 "This year's show has been great, in fact I would say it has been the best ever for the New Meridian. We have signed up so many partner members as well as group organisers and they're genuine group organisers, it's been so successful. On 18th November 2020, we've also organised an AGM trip to Cyprus with the help of Jet2holidays and Constantinou Hotels. This has all come about from today which is unbelievable. We've also organised with Condor to go to Jersey, I mean this has been a magnificent opportunity to meet so many good people. Sometimes you go to shows and you meet lots of people that are not always what you expect them to be but today has been a huge success for us at Meridian for sure."
Sylvia Saxon, The New Meridian
Testimonials from our visitors day… "I'm really looking forward to it. Everything is so easy at the Marshall Arena. And because it's the first time the Group Leisure & Travel Show has been held in Milton Keynes there's such a buzz about it – everyone will want to be here. It's so cosy and has a really nice feel to it."
GTO Marian Durbidge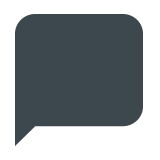 "It has been great to see the venue in Milton Keynes, it's much more intimate and it feels like everything will flow much easier. It's going to be great. As soon as I heard it was in Milton Keynes I knew it would be right."
Sylvia Saxon, GTO and chair of the New Meridian Association "The GLT Show being in Milton Keynes just makes sense. Visitors will be able to make a real day of it – there's everything here, shops, restaurants, everything you need. The parking as well is a huge benefit, it's so easy. The location is fantastic and it's going to be a really good event."
GTO Mary Gotts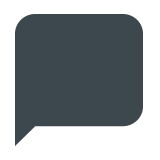 "The thing for me is that the Milton Keynes venue, and location, just seems much more approachable. I would feel a lot more confident coming here to exhibit, it's a more inviting venue and there's everything here."
Anneka Nicholls, marketing coordinator, Shakespeare's England "The big draw, after seeing the venue, is how easy everything is. There's so much parking right outside and it's all free. When I saw the Marshall Arena, and the floorspace itself, it gave me the wow factor. Coaches are able to park right outside; you've got the Premier Lounge upstairs and the catering options seem great – none of that will interfere with exhibitor and visitor space so it seems it's all going to work so well."
Sue Lea, destination manager, Visit Herts "We're based in Stratford and it's taken me about an hour and a half to get here – it's very easy and everything seems so handy for the event."
Peter Monks, director, Shakespeare's Distillery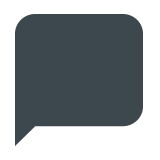 "The venue in Milton Keynes is really great. We have no doubt that we'll be able to get our partners on board with it."
Ekaterina Leret, marketing & commercial manager, Shakespeare's England "It's been great to see the venue, the loading arrangements seem really easy."
Kerry Wheelwright, Visit Skipton

"A day well spent with the vast amount of information gained and contacts established. A great help in our tour planning."
Clive Morgan, European Heritage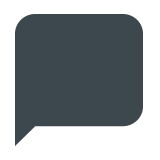 "Well organised coach transport, Friendly welcome, Stalls to cover most attractions, and group holidays. Event had a good feeling and all participants very helpful Well done!"
Barbara Naylor – Naylor's Trips & Holidays

"A really pleasant day out where we met up with a good number of old friends who were exhibiting. We also picked up some new ideas which hopefully we will be able to use over the coming months / years."
Carol Saltmarsh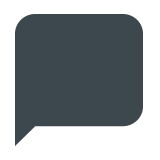 "Personally, I thought this was the best show I'd been too and my colleagues who came for the first time thought it brilliant."
Sheila Furniss, Rolls-Royce Retired Employees Association

"The show was well managed, and the layout was very good. Everything was good, and I have nothing but praise for the event. Keep up the good work!"
John Coatman,
Croydon Crusaders

"Impressed with the number of exhibits, very well organised, great experience, an eye opener to what's available."
Michael Hutley, Rolls-Royce Retired Employees Assoc.

"It's been really good at the show to look for ideas. I've spoken to West Somerset Railway which offers accommodation for volunteers. Some trips can be so expensive. The GLT Show is fantastic for finding deals and speaking to people face to face. I also spoke to Swanage Railway too. It's great to share notes."
Michael Milner, group organiser, British Rail Staff Railway Society

"I thoroughly enjoyed the Group Leisure & Travel Awards evening – it was great to be a finalist! The Group Leisure & Travel Show has given me lots of ideas – I spoke to Cruise & Maritime Voyages and Woburn Abbey – who do a great afternoon tea. I also spoke to the team at Jailhouse Tours too – it's great to network."
Sue Goodwin, group organiser, Fun Days & Tours Club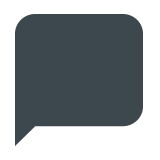 "I find the Group Leisure & Travel Show so useful – I've been coming for years. I've been speaking to InterChoice as I do a lot with them. It's just helpful to speak to people face to face. Plus, the bacon butties are always great too!"
Sally Davison, group organiser, Sutton Coldfield Archaeology Society

"There has been such a range of exhibitors on offer today. Because of Brexit we've been looking at UK attractions and there are plenty of them here – we've picked up some really good ideas for our group."
Roger Tacq, organiser, U3A

"Great ideas. Had never heard of Kynren before and have now booked for 2020. In 2019 we have out first group holiday and hope to visit Glasgow during our stay. They had a stall at the show which was fantastic."
Lesley Bayston,
Burton-on-Trent U3A

 "It's my first time at the show and it has been very good with lots of choice. With our association, people like to stay in this country so the GLT Show is the ideal place to pick up ideas for places to visit in the UK. I've picked up some inspiration for places including Liverpool so I'll be taking them back to our members."
Pauline Peace, treasurer, Orchard Close Residents Association

"I signed up for Group Leisure & Travel magazine a few years ago and it's the most interesting read and each edition is well-thumbed by our group. The Group Leisure & Travel Show has been so useful too. This year I've enjoyed speaking to exhibitors from Blackpool. It's all about connecting with people and the show is great for looking at prices of trips. I also came to the awards last year which was brilliant – I've never seen so much free wine!"
Pauline Griffiths, group organiser, Marston Green 50+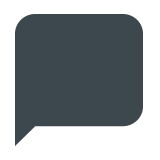 "We thoroughly enjoyed the show. It was well organised and the talks in the Seminar Theatre were great fun and informative and fun. We're going away with lots of ideas for group trips. We're looking forward to next year's event at MK Stadium."
Marian & Roger Durbidge, Herts Theatre Club

 "It's great to see some new exhibitors at the show, for example Visit Coventry – I haven't seen them here before so you get lots of new ideas"
Larraine Tresser, organiser, Gemmaway Travel

 "Everybody is here that you want to see. I have been coming to the show for 20-odd years. I loved Gyles Brandreth's talk too, he talked about Chester Zoo and Southport and recommended them for visitors – being from that part of the world, I'd certainly agree!"
Keith Prince, organiser, EKP Tourism

 "I've been coming to the show right from the start and it's always great, today is no exception. I first came when my daughter was young, now she's here with me today with her daughter so it's a family tradition. We got the coach too from Banbury and it all went very smoothly and was an excellent luxury coach service with Pulhams. The show was helpful and interesting as usual with the added benefit of the entertaining Gyles and the ever-informative Simon in the Seminar Theatre."
Mike Breakell, organiser, Cotswold Morris Tours

"I have attended the show for a number of years and have found it very useful to meet tour companies face to face as they have helped me arrange short breaks providing coaches, hotels and booking garden visits and places of interest for my group to enjoy. It is so much better to meet them to talk things through than it is speaking on the phone. They know me and understand what my group needs to make an enjoyable holiday."
Brenda Redmile, Gardening Friends

"Right time, right place, excellent for planning next year!"
David Chatterley, Proprietor, Showcoach

"An enjoyable time with lovely people and lots of ideas for group trips."
Susan Holtom, Joint Social Secretary, National Grid Retired Association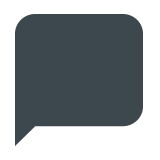 "Well worth the visit, very friendly and quality exhibitors – real added value for the day."
Colin Watson, Vice President, Rotary International

"Wonderful show, it's been absolutely brilliant – thank you for putting it on."
Giovanna Di Massa, GTO, E-Voyages group

"The show is the highlight of my year – it honestly is. It's the best show for trade for groups. It's a brilliant place, you pick up ideas, it's interesting, it is a must for group organisers. Brilliant day out, absolutely fantastic; this must be the tenth year I've come!"
Kathleen Oakley, GTO, Derek's Tours

"I find these shows very helpful for travel. You meet new people. The first trip we did this year was Kidderminster Carpet Museum and that was booked through last year's GLTS. A lady from Dacorum last year recommended the Frogmore Paper Mill and I've finally been. Simon Calder was very interesting and I asked the first question! He was very good."
William Read, GTO, Midland Association of Protection Scientists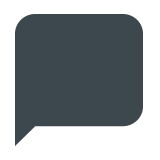 "I visited the show this year with the purpose of gaining extra useful information for my 2018 tour programme and I am happy to say that this achieved."
Ian Tuer, Manager, K and B Travel

"An excellent show in a convenient location with a good variety of exhibitors and an excellent seminar programme."
Douglas Spencer, Group Tours Organiser, Matlock Travel Society

"We had a very informative and enjoyable day. A pleasure to talk to helpful exhibitors who took time to answer our many questions."
Richard Rose, Walk Co-ordinator, Worcester Ramblers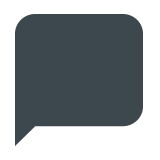 "I had several first time meetings with excursion attractions and hotel groups, which gave me some excellent ideas for future tour programmes.""
James Smith, Product Administrator, Alfa Travel

"It was my first visit to the show and it won't be my last. As a group event organiser it is a very good one-stop shop, full of ideas for future events, day trips, holidays, etc. Well done to the organisers!"
John Twigg, Social Convenor, Sutton Coldfield Vesey Probus

"I always get great satisfaction from visiting this show. I know I'm going to come away with ideas and information that will carry me through my outing and holiday programme for the following year."
Jean Feiven, Co-ordinator Tesco RCC, Tesco Retired Colleagues Community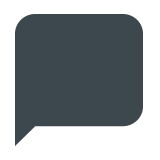 "A good day. Great to meet so many different exhibitors and we got lots of ideas. We also booked a group trip for 2018 with Cairngorm Travel which looks likely to be in the region of 100 members."
Sheila Furniss, Chairwoman and Events Organiser, 1943

"Once again I really enjoyed the show and found plenty of ideas for places to visit and take short breaks. There seemed to be more varied suppliers this time so I met a few more representatives to talk to face to face and pick up information. My group will be surprised to see what I have to suggest next year – who would have thought they could mint their own money!"
Brenda Redmile, GTO, Gardening Friends.

"I come every year and book about 20 trips a year, nearly all of which is booked through this show. Waddesdon Manor, we're doing in December, we've done Woburn Abbey and Bletchley, we try and do a railway each year too. We'd love to consider Potters Resort in the future. I'm always booking theatre, especially through Ticketmaster"
Hazell Rolinson, GTO, Friends and Neighbours

"The standard is very high and is a must on my programme of show visits where I can obtain all the information required for planning a full year of travel itineraries"
Graham Hannen, Group Travel Organiser, Probus Travel of Sandbach

"It's our first time here and it's been so helpful and has lots of useful information. The speakers have been great. We particularly enjoyed Chris Beardshaw as what he talked about was very relevant to us. It's been a lovely day!"
Susan Moss, Oxford NHS Retirement Fellowships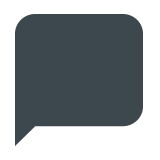 "Great show. Lovely meeting up with feĺlow group organisers and meeting in person those who we deal with over telephone and mail. Picked up some good contacts. Well worth the visit."
Barry R Whitehouse. MBE, Chairman/Organiser, Bloomfield Over 50's Club

"It was lovely to talk to exhibitors to get ideas, and also to speak to those whose attractions I have already been to with my group to let them know how much we enjoyed them, and to hopefully let other interested people talking to them know how good they are from an independent source."
Sue Beneke, Outings Organiser, Evesham & District U3A

"It's our first time at this event. We won tickets for the Awards that took place last night and which was a fabulous event. We had no idea just how much involvement there is in group travel. It's opened our eyes. The entertainment at the awards was fabulous and so was the food and wine. It felt like the Oscars."
Pauline Griffiths, GTO, Marston Green 50+

"A very interesting day. Able to talk to virtually all exhibitors who were enthusiastic but not pushy about their products. Attended two seminars and would have done the others had there been time! Many thanks!"
Amanda Barns, Trip Organiser, Gloucestershire U3A

"It's such a good place for new GTOs to get an understanding for what's happening their area to discover. I have been for several years and it's always a great show"
Andy Booth, GTO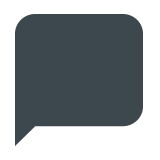 "Hunts Coaches met fellow industry specialists at the event and the seminars provided a fresh take. The show provides inspiration and good contacts."
Lindsay Linder, Business Development and Marketing Manager, Hunts Coaches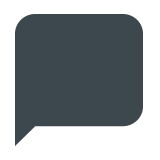 "Not-to-be-missed opportunity if you are a small-to-medium groups organiser."
Helen Bilinska, Chairman, Hanover Court (London) Limited

"Good show. Excellent for meeting the people from their organisations. Enjoyed the celebrity speakers."
Lin Ashby, Treasurer / Programme organiser, Tetbury Theatre Group

"Another excellent show, thoughtfully planned. The seminars are a great addition to the show."
Mrs. Christine James, Owner, CMJ Group Travel

"My visit to the Group Leisure and Travel Show 2017 was a most pleasant and informative occasion. It was great to talk face to face with the exhibitors and to gain many fresh ideas for group visits."
Janice Whitmore, Group Travel Organiser, Crewe and Nantwich U3A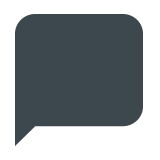 "The Group Leisure & Travel Show is a very valuable tool and comes at the right time of year. I personally use it to catch up with current suppliers, to discover new ideas and personally meet current contacts."
Geoff Allen, Principal, Travallen Travel & Events

"The Group Leisure Show at the NEC set the benchmark from which the group travel organisers gauge the quality of today's industry."
John Flynn, Treasurer, Role On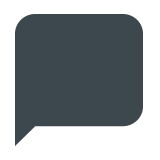 "Many new attractions in attendance made my voluntary job as meetings co-ordinator more enjoyable and an opportunity to try new ideas"
Les Millington, Meetings Coordinator, Friends Of The Black Country Museum

"A lovely way to meet old friends from both sides of the spectrum and interesting to find some new ideas."
Pauline Sutherland, Outings Organiser, Womens Horticultural Society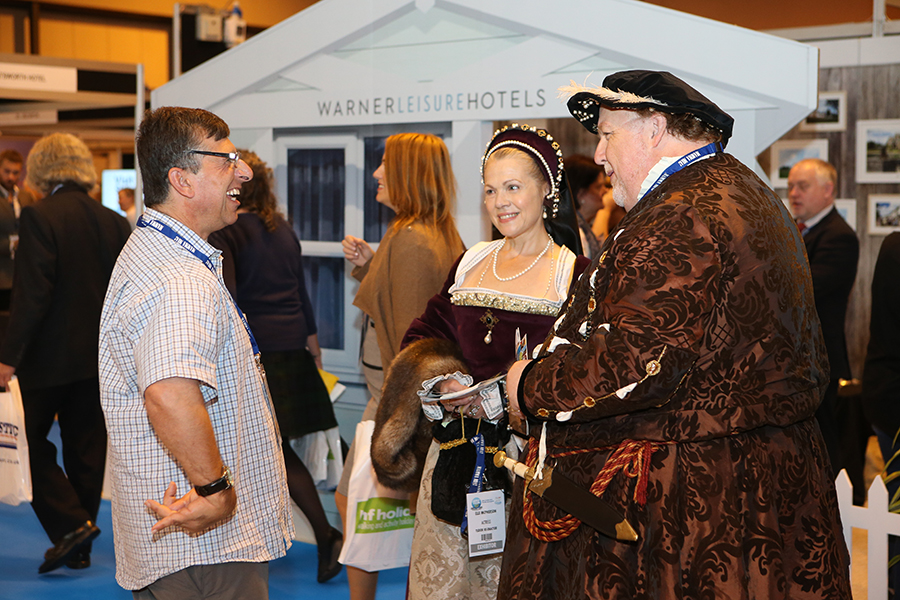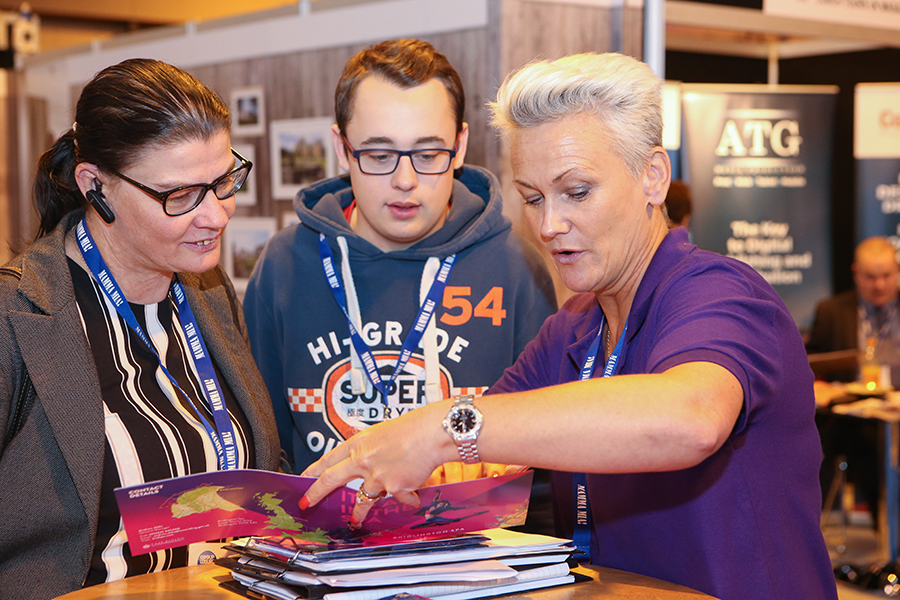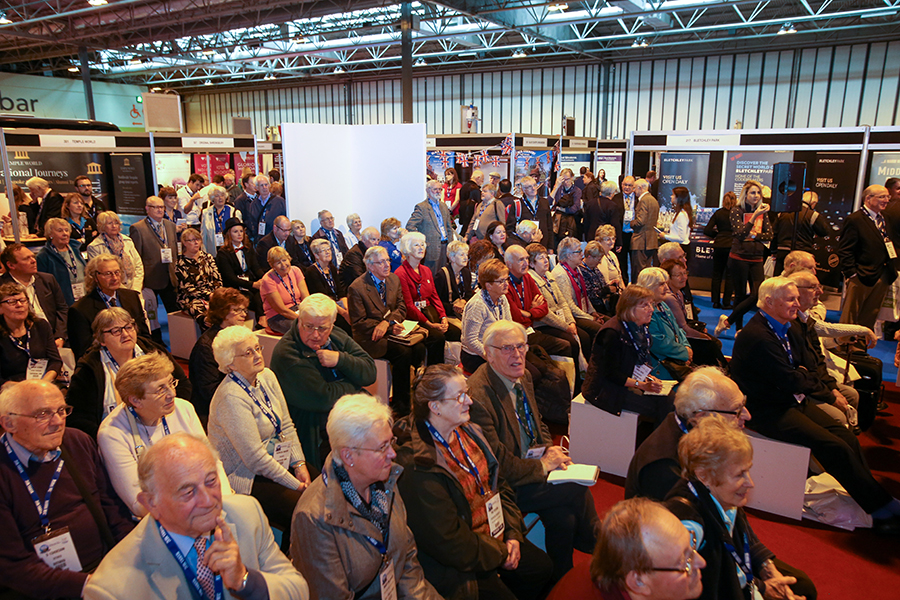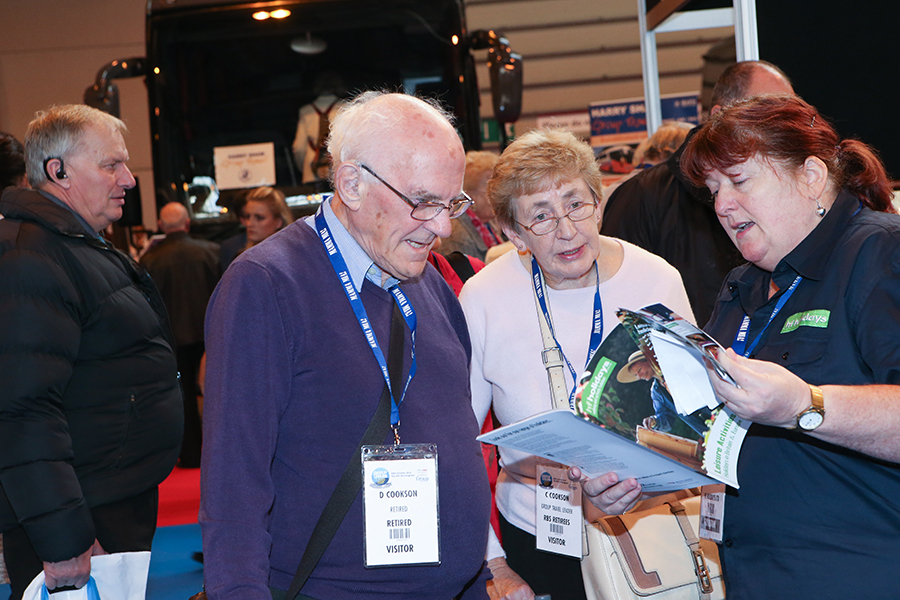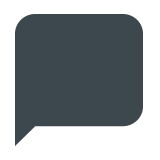 "The Group Leisure & Travel Show for Group Travel organisers is a MUST. You can't beat this event for ideas, for suggestions of places to visit, you can talk to the people from the areas you think might be a good idea to include in your next programme. Get valuable information, contacts. It's an event we look forward to every year. We come away 'buzzing' with ideas for our next programme – it makes our job easy, places to visit, suggestions, events, tips, advice and a bacon butty too!. (Incidentally we also took advantage of a GLT trip to Gloucester and then used our experience to take a 5 day tour to the area and still getting the Thank you letters)."
Kath Oakley, Company Secretary, Derek's Tours

"A great and comprehensive show with a good variety of exhibitors, both previous and new. The ability to explore new avenues for our one day visits was very good. The seminars were very interesting and enjoyable, although we could not attend them all! It was a good opportunity to renew acquaintances and be able to comment on past and forthcoming Group Days Out. The central location of the venue is a definite plus with plenty of room to circulate and, of course, the free parking offer. We will definitely be registering to attend again in 2017."
Douglas Spencer, Group Tour Organiser/Hon Secretary

"Good experience, great meeting up with the varied exhibitors especially those who we have dealt with. Collected some good contacts for future."
Barry Whitehouse MBE, Chairman/Organiser, Bloomfield Over 50S Club

"Once again the Group Leisure Show has given me all the ideas I need to plan my 2017 diary be it days out or holidays and I can guarantee my members will thoroughly enjoy themselves."
Jean Feiven, Coordinator, Tesco Retired Staff Association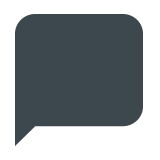 "As my wife & I organise trips and festive events for both our Walking & Bowling Club, we look to the Leisure Show for ideas, and any special offers"
Mike Giles, Chairman, Cotswold Rambling Club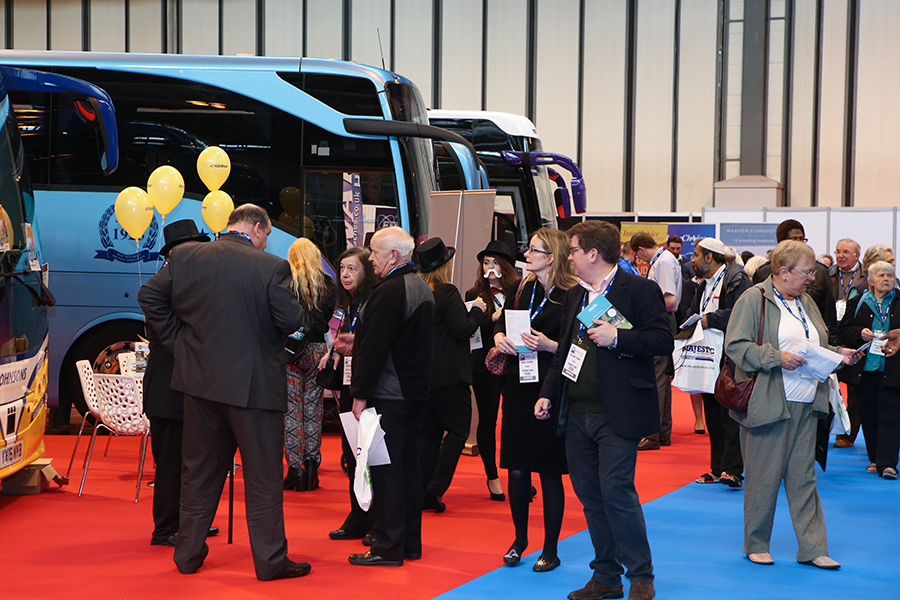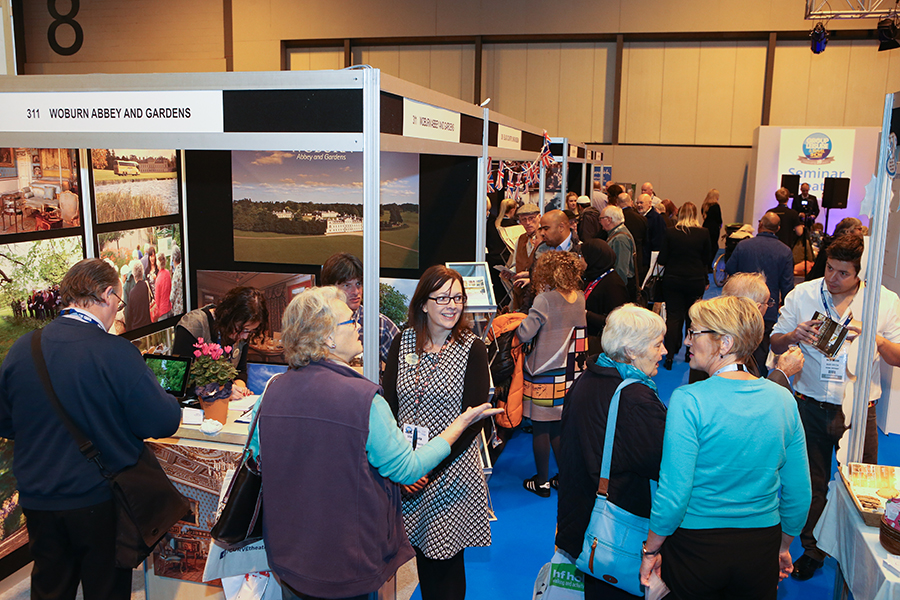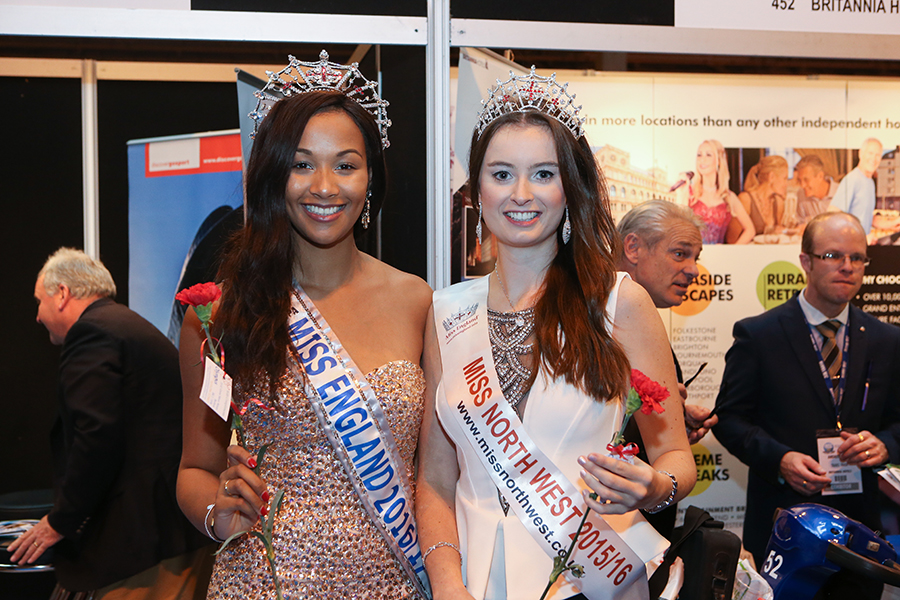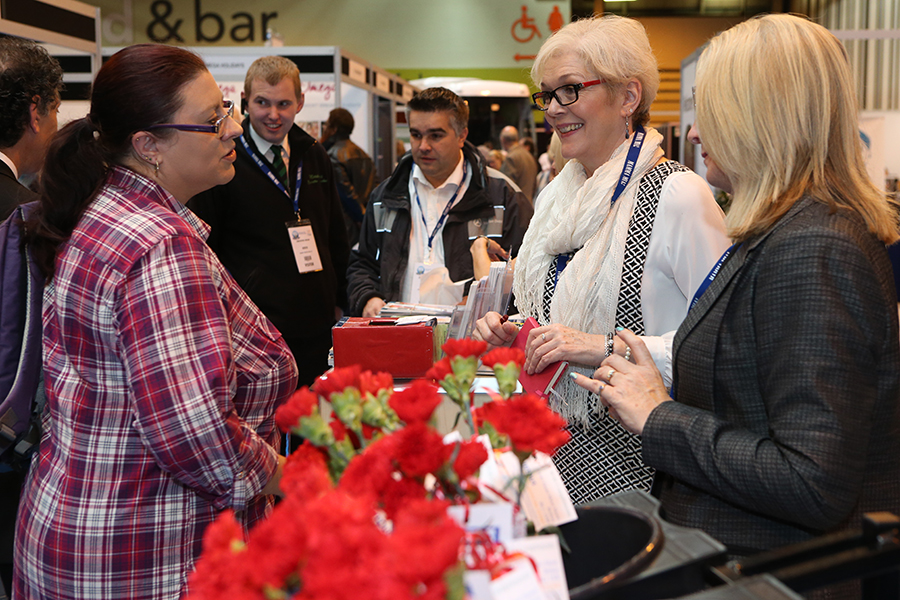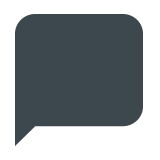 "I found the show easy to get to from Oxford, car parking was easy, all the people on show stands happy to chat even if it was not something you had planned to look at. The variety of stands very good something for everyone, from days out to holidays, lots of ideas, and most were happy to make tailor-made plans for your groups. I would recommend anyone to take a look at what out there on offer."
Kyri Vassilas, Group Sales Coordinator, Bhlive

"Nice day out to meet suppliers and gain lots of ideas, loved the free car parking and bacon butty for breakfast, recently did the wedding show £12 to park and food was expensive, so well done all who organised, helped, sponsored. Will visit again next year for sure."
Vicky Hadley, Mcc Personal Travel Agent

"Great show for meeting and getting new ideas"
Margaret Simm, Luxury Travel Consultant, Group & School Travel Consultancy

"Good show. Plenty of room to talk with Exhibitors."
Joan Hanks, Events Coordinator, St Andrews Llc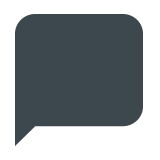 "An excellent show for Group Travel Organisers"
William J Read, Hon Sec, Stafford Historical & Civic Society

"I found the show both interesting and rewarding. It's always great to catch up with established contacts and take the opportunity to meet new ones. The free car park ticket was much appreciated and the friendliness of our hosts is to be commended."
Geoff Allen, Principal, Travallan Travel & Events

"Enjoyed the talks by Eric Knowles, Scam expert and guy from Homes under the Hammer. scam expert very interesting and as I'm doing Neighbourhood Watch I asked him few questions. Also met Eric Knowles and he has been to my Antiques club to give talk, nice man."
Shirley Ward, GTO, Shirley Tours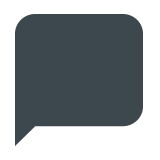 "Very pleasant atmosphere – everyone seemed to be in a good mood and anxious to help"
Tony Milhofer, MD, Routes To Suit Travel Ltd

"Found it to be really useful. The talks were fascinating and I met lots of new contacts."
Mel Robson, Heritage Product Manager, Just Go Holidays

"Planning for 2017? This is the show to be at."
David Chatterley, Proprietor, Showcoach

"My first visit to the Group Leisure & Travel Show and what a fantastic day. Came away with loads of ideas and inspiration! Really enjoyed the seminars too! A great day – thank you."
Amy Goodfellow, Office Assistant, Robin Hood Travel Ltd

"This was a good opportunity to get ideas for hotels and locations I had not been aware of previously and gave me more information about destinations I did not know much about previously. I found it useful."
Jane Pomfrey-Jones, British Branch Sec, European Association Of Machine Tool Merchants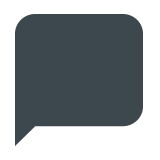 "I travelled to the Group Leisure & Travel Show 2016 as a visitor; I found the show beneficial with the onward development of my group tour business in mind. I'm now considering exhibiting at the 2017 event."
Duncan Maclean, Tour Operator, Invergordon Bus Tours

"We always manage to come home with some new ideas, that we haven't considered before. It's always worth a visit."
Joanne Boxley, Support Manager, Halas Homes

"I had a really enjoyable day at the show. Was great speaking to familiar faces and also making new contacts. I've got lots of new ideas for our holiday and day trip programme."
Rachel Lindsay, Travel Centre Manager, Reays Coaches

"Informative experience and meeting in person some of the exhibitors."
Beryl Carr, Travel & Outings Organiser, Buckingham U3A And Carr Group Travel

"With small clusters of stands, the show was easy to navigate and find suitable suppliers for our needs."
Robin Findlay, Chairman/CEO, Ruby Mear Group Of Companies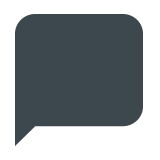 "Great show. Met new people and new ideas for group travel."
Hilary Beckett, Theatre Outings, MK U3A
Whether you want more info about exhibiting or visiting, phone us or use our contact form, and we'll get straight back to you.
Postal Address: YPL Exhibitions & Events, P.O. Box 5299, Milton Keynes MK15 8BD